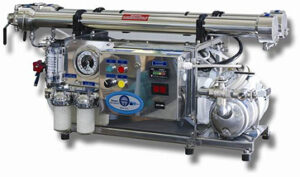 Mini Compact Horizontal Junior
The MINI COMPACT range includes models wich are particularly reccommended for medium size boats. They are very easily instal/able and modular: this means that they can be installed in compact version, or mounted in 3 separate pieces according to the space available. The control instruments are complete, functional and easy to operate. The alarm devices are complete too and guarantee the immediate stoppage also in case of anomalies or wrong manoeuvring. IDR plants, from the frame to the nuts, screw and joints, are made entirely in 316L stainless steel.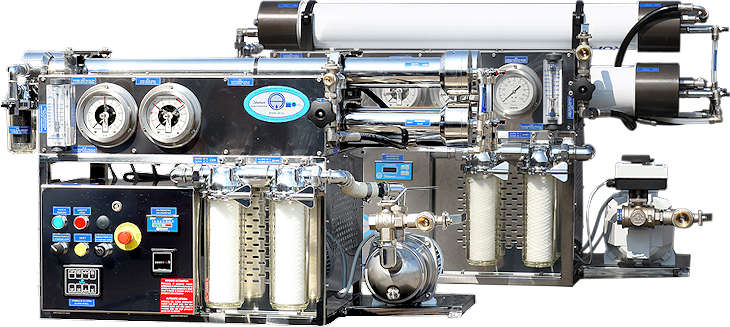 Mini Compact Horizontal Senior
The 4 models of the Senior series, while still maintaining small dimensions and low power consumption, are the immediate response to a request for machines that are increasingly reliable, simple and capable of working at a fast pace. Always decomposable into several parts for easy maintenance and completely adaptable to the spaces available, the Desalinators of the Senior series, as for the Junior series, are equipped with a complete and readable instrumentation and at the same time extremely functional equipped with alarm devices that intervene even in the event of a falults.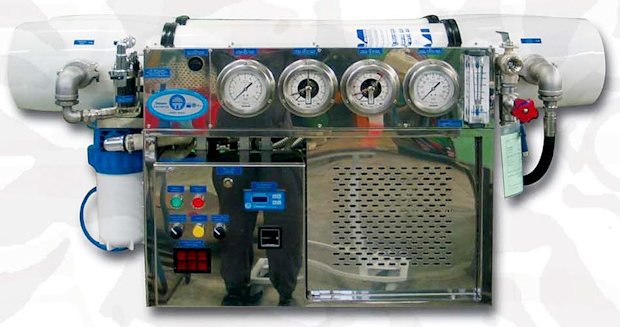 Top Compact Horizontal Senior
The TOP series range of watermakers includes models which are ideal for large watercraft where water consumption is high and the watermaker works intensively and constantly. These units owe their reliability to the high technology and quality of the components, the complete instrumentation and easy use and maintenance The 8 warning lights on the control anel ensureimmediate shut-down of the unit indicating the cause. these models can also be assembled into 3 parts to facilitate installation in restricted space.

Water Desalination Parts CAT Pumps
CAT SeriesA complete range of piston and plunger pumps from 40 to 690 bar and from 0,5 to 284 l/min.Learn more about our Water Desalination Parts